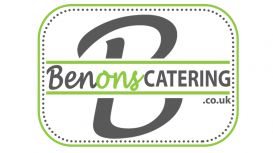 Welcome to Benons Catering. We'll be your dependable and reliable catering services provider for your next event for all your catering needs. No Event Too Small or Too Big; Hot or Cold, Fork or Finger Buffet, we do It All. Be it a Corporate, business, private, wedding, office, or BBQ, to birthdays, kids' Parties, Graduations, Retirement Parties, or Funerals or indeed any buffet event catering Party for both hot and cold Buffets.
Over the years, we have built out experience through working with some of the Nation's isons including Hospitals, Colleges, Councils, Goverment agencies, Private corporations such as BRC Promotions, Edmond Bell, Homebase, Aldi, WCCTV, DHL, Holts, Sports establishments such as Cricket clubs among others and 1000s more private and business events.
Our ethos is to work with you to ensure all your catering needs are being met. Our array of menus mean you will be inspired but should you require something more bespoke, we will work with you to create a custom, made from scratch menu to suit your specific needs.
As we work hard, our carefully refined service will allow you and your guests to indulge in the experience. We believe in local so expect every menu to feature seasonal and sustainable supplies, carefully crafted around your needs and taste for a truly unforgettable experience.
We're a specialist Caterer with many success stories over the years gone by. Some of the various types of events we cater for include:
· Corporate & Business – (Customer & Employee Appreciation Events, Promotions, Grand Openings, Outdoor Affairs, Meetings, Holiday Parties, Boxed Lunches, Picnic and Lunch Bags, Product Launches).
· Weddings & Showers – (Wedding Receptions, Rehearsals, Bridal Showers, Anniversaries, Hen and Stag Dos).
· Family Celebrations – (Baby Showers, Christenings, Baptisms, First Holy Communions, Birthday Parties).
· Special Events – (Garden Parties, BBQ, Fundraisers, Cocktail Parties, Luxury Catering).
· Retirements.
· Bereavements and Funerals.
· Catering Equipment Hire.
· Marquee Hire.
Reviews and Ratings
Amazing 5* Service. Ample food, great quality, quantity, price, staff service. Would highly recommend.
What can I say! Emma & her team is so efficient and know exactly what their clients want. They go extra miles to make it perfect for the host and the guests! I had the best curry ever! All the guests couldn't stop raving about how great the food was. Emma and her team were even attending guests and were so friendly and lovely. I couldn't believe how much you get for the price! And plus no cutlery messing and post-party cleaning for guests and hosts! I can't recommend these lovely people enough! Great service and beautiful food!